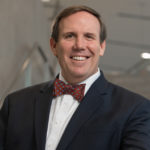 An acclaimed international law and national security expert experienced in academic, law, and government service settings, Provost Glenn M. Sulmasy brings a distinguished record of Higher Education leadership and academic achievement to his position as Nichol's University President.
Sulmasy previously served as Bryant's first university Provost and Chief Academic Officer. Before that he served as Deputy University Counsel and later led the Humanities Department at the United States Coast Guard Academy (USCGA), in New London, CT.  Additionally, he served as Professor of Law at USCGA and has been involved in higher education since 1997.
In addition to serving on the faculties of the Academy and the U.S. Naval War College, Sulmasy has lectured in the fields of International Law, U.S. Constitutional Law, and National Security at numerous universities and think tanks. He has also served as a National Security and Human Rights Fellow at the Carr Center for Human Rights Policy at the Harvard Kennedy School.
A former fellow in Homeland Security and National Security Law for the Center for National Policy in Washington D.C., Sulmasy lectures extensively on the law of armed conflict, international law, and national security matters. He is widely published internationally on national security matters, and as an expert has been featured in the LA Times, on CBS News Radio, National Public Radio, CNN International, US News & World Report, the New York Times and the San Francisco Chronicle, Al-Jazeera America, MSNBC, Fox News and numerous other national media outlets. He is the author of The National Security Court System – A Natural Evolution of Justice in an Age of Terror (Oxford University Press) and Co-Editor of International Law Challenges – Homeland Security and Combating Terrorism (2005).
Sulmasy was educated at the U.S. Coast Guard Academy, University of Baltimore School of Law (cum laude), UC Berkeley School of Law (Boalt Hall) and the Harvard Kennedy School.
Provost Sulmasy, his wife Marla, and seven children hail from Old Lyme, CT and Smithfield, RI.