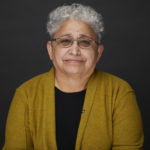 Carmen, a retired Senior Federal Executive with 32 years' experience in the Intelligence Community, is a recognized national and international expert on intelligence analysis, strategic thinking, diversity of thought, and innovation and intrapreneurs in the public sector. She is the co-author of the book: Rebels At Work: A Handbook for Leading Change from Within and of the landmark Deloitte University Press paper on Diversity's New Fronter: Diversity of Thought and the Future of the Workplace. Her story as a heretic and change agent at CIA is featured in Wharton School professor Adam Grant's bestseller Originals: How Non-Conformists Move the World.
Some of her most recent presentations include speaking at South by Southwest 2018 on The Mediocrity Trap and on Critical Thinking at SXSW 2017, to Canadian Federal senior executives about Diversity of Thought and Rebel Thinking 2018, to the California STEM Education conference 2017, at the Business Innovation Factory 2017, and multiple times at GovLoop's NextGen Leadership summit.
From 2005-2007 Carmen was part of the executive team that led the CIA's Analysis Directorate; in her last assignment before retiring she oversaw the CIA's Lessons Learned program and led the Agency's first efforts to address the challenges posed by social networks, digital ubiquity, and the emerging culture of collaboration. She was a leader on diversity issues at the CIA, serving on equity boards at all organizational levels and across Directorates. She was the first CIA executive to conceptualize many IT applications now used by analysts, including blogs, online production, collaborative tools, and Intellipedia, a project she personally greenlighted; as a senior executive, she began using in 2005 social networking and blogs to reach her diverse workforce. Upon her retirement from CIA, she received the Distinguished Career Intelligence Medal. From 2011—2015, Carmen was a member of Deloitte Federal Consulting where she served as senior advisor and mentor to Deloitte's flagship innovation program, GovLab.
Carmen describes herself as Puerto Rican by birth and Texan by nationality. She likes to garden and cook things that she has grown. You can follow her on Twitter @milouness and visit her two blogs: recoveringfed.com and rebelsatwork.com
For more of Ms. Carmen's media hits, click here.