CyberNext DC Vulnerability Disclosure Panel
Venable LLP
Wednesday, October 25 | 10:50am – 11:50am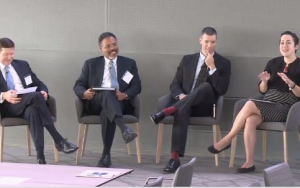 NSI co-hosted the CyberNextDC conference in downtown Washington, DC alongside the Coalition for Cybersecurity Policy & Law and the Cyber Threat Alliance to discuss the current state of cybersecurity and identify forward-thinking approaches to improve cybersecurity.  Speakers at the event included White House Cybersecurity Coordinator Rob Joyce, Senate Homeland Security Chair Ron Johnson (R-WI), and Palo Alto Networks CEO Mark McLaughlin. NSI Director of Operations Darren Dick moderated a panel on vulnerability disclosure policy featuring Harley Geiger, Director of Public Policy, Rapid7, Heather West, Senior Policy Manager, Mozilla, Sam Curry, Chief Information Security Officer, Cybereason, and Leonard Bailey, Special Counsel from the Computer Crime and Intelligence Property Section/DOJ, as panelists.
Thank you to everyone who contributed to this important discussion!