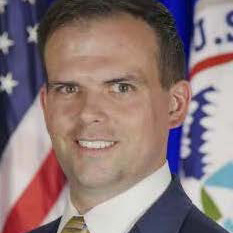 Since March 2016, James McCament has served as deputy associate director, Service Center Operations, overseeing the work of the 5 USCIS Service Centers in their processing of more than 4 million applications annually.  He previously served as the chief of the USCIS Office of Legislative Affairs (OLA) since January 2009.
During his seven-year tenure as chief of OLA, McCament oversaw the work of 160 employees who manage USCIS's interaction with members of Congress and their staff for matters of legislative development, immigration policy, agency operations and individual cases of interest.
From May 2013 to August 2015, McCament served in the Office of the USCIS Director as acting Chief of Staff and acting Deputy Chief of Staff.  From 2008 to 2009, he served as DHS Field Office Director (FOD) in Havana, Cuba.  From 2006 to 2008, McCament served as the senior counselor to the Director of USCIS.  From September 2003 until joining USCIS in 2006, McCament served as a special advisor to Department of Homeland Security Secretaries Tom Ridge and Michael Chertoff.  Before joining DHS its first day in March 2003, from 2001-2003 McCament served as an honors attorney in the Office of the General Counsel of the Department of the Treasury.  From 2000-2001 McCament served as law clerk to the Honorable William C. Lee, Chief Judge of the United States District Court for the Northern District of Indiana.
McCament received his Juris Doctor from the University of Notre Dame Law School and his bachelor's degree from Mount Vernon Nazarene College.  A Harvard Kennedy School Senior Executive Fellow and Federal Executive Institute graduate, McCament is bar licensed in Ohio and is adjunct professor of law for the Antonin Scalia Law School at George Mason University.
For more of Mr. McCament's media hits, click here.