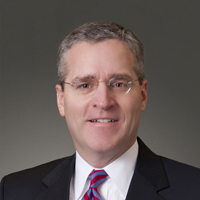 Mr. Rowan is a partner at McGuireWoods LLP, where his practice focuses on international and national security matters.  Prior to joining McGuireWoods, Mr. Rowan spent 18 years in the Department of Justice (DOJ).
He was one of the leaders of the National Security Division (NSD) at its founding in 2006, first serving as its first Principal Assistant Attorney General for two years and then serving as the Assistant Attorney General for National Security. In that Senate-confirmed position, Mr. Rowan led the NSD, which was formally created by statute to bring together all of DOJ's national security operations under a single authority. As part of his duties, Mr. Rowan supervised the government's practice before the Foreign Intelligence Surveillance Court; the oversight of intelligence-collection activities; the coordinated nationwide counterterrorism enforcement program; the administration of the Foreign Agents Registration Act; and the oversight of all espionage and export control/sanctions investigations.  He also oversaw DOJ's review of foreign acquisitions of U.S. companies through the interagency Committee on Foreign Investment in the United States (CFIUS).
Prior to joining the NSD, Mr. Rowan worked as an Assistant Deputy Attorney General, a Counsel to the Assistant Attorney General for the Criminal Division, and a Deputy General Counsel at the FBI.  He also served as an Assistant U.S. Attorney for more than 10 years in Washington, D.C.
As part of this current law practice, Mr. Rowan advises clients on compliance with a wide variety of national security-focused U.S. laws and regulations, including export controls and sanctions. His clients include defense contractors, financial institutions, and major manufacturing companies.
Mr. Rowan graduated from Dartmouth College, cum laude, with a BA in Philosophy.  He earned his law degree from the University of Virginia School of Law, where he was selected to the  Order of the Coif.
For more of Mr. Rowan's media hits, click here.