NSI was proud to host Dr. Amy Zegart for a discussion about her book Spies, Lies, and Algorithms: The History and Future of American Intelligence. This event was open to the public and was held virtually on Thursday, February 3 from 5:30-6:30pm ET.
Spies, Lies, and Algorithms: The History and Future of American Intelligence (Princeton University Press; February 1, 2022) was the first comprehensive book on the past, present, and future of American intelligence—and outlined what's urgently needed to protect our nation today. The book drew on over thirty years of research (including new research just for this book) and hundreds of interviews with current and former intelligence officials.
About Dr. Amy Zegart:
Amy Zegart is Senior Fellow at the Freeman Spogli Institute for International Studies, Morris Arnold and Nona Jean Cox Senior Fellow at the Hoover Institution, and Professor, by courtesy, of Political Science at Stanford University.
Before coming to Stanford in 2011, Zegart served as professor of public policy at UCLA's Luskin School of Public Affairs. Her research examines U.S. intelligence challenges, cyber security, grand strategy, and American foreign policy. She has authored several books, including Flawed by Design: The Evolution of the CIA, JCS, and NSC, which won the highest national dissertation award in political science, and Spying Blind: The CIA, the FBI, and the Origins of 9/11, which won the National Academy of Public Administration's Brownlow Book Award. Her most recent book is Eyes on Spies: Congress and the United States Intelligence Community.
Her current research includes a book with Condoleezza Rice on how business leaders can manage political risk (Twelve Books, 2018), a project on drones and coercion, and a book about intelligence challenges in the digital age.
Zegart was featured by the National Journal as one of the ten most influential experts in intelligence reform. She served on the Clinton administration's National Security Council staff and as a foreign policy adviser to the Bush-Cheney 2000 presidential campaign. She has testified before the Senate Intelligence Committee, provided training to the Marine Corps, and advised officials on intelligence and homeland security matters. From 2009 to 2011 she served on the National Academies of Science Panel to Improve Intelligence Analysis. Her commentary has been featured on national television and radio shows and in the New York Times, Washington Post, and Los Angeles Times.
Before her academic career, Zegart spent three years at McKinsey & Company advising leading companies about strategy and organizational effectiveness.
A former Fulbright scholar, Zegart received an AB in East Asian studies magna cum laude from Harvard University and an MA and PhD in political science from Stanford University. She served on the FBI Intelligence Analysts Association National Advisory Board and the Los Angeles Police Department's Counter-terrorism and Community Police Advisory Board. She also served on the Secretary of Energy Advisory Board Task Force on Nuclear Nonproliferation and is a lifetime member of the Council on Foreign Relations. She currently serves on the Social Science Research Council Task Force on Securing Knowledge and on the board of directors of Kratos Defense and Security Solutions.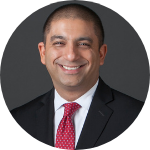 Jamil N. Jaffer is the Founder and Executive Director of the National Security Institute, and an Assistant Professor of Law and Director of the National Security Law & Policy Program at the Antonin Scalia Law School at George Mason University. Jamil is also Senior Vice President for Strategy, Partnerships & Corporate Development at IronNet Cybersecurity, a technology products startup founded by Gen (ret.) Keith B. Alexander, the former Director of the National Security Agency and Founding Commander of U.S. Cyber Command. In his role at IronNet, Jamil leads all of the company's strategic and technology partnership efforts, including developing go-to-market and technology integration plans with some of the largest cloud platforms and cybersecurity companies in the market, evaluating potential acquisition targets, and developing overall corporate strategy and thought leadership around collective security and collaborative defense in the cyber arena. In addition, Jamil is an advisor to Beacon Global Strategies, a strategic advisory firm; 4iQ, a deep and dark web intelligence startup; Duco, a technology platform startup that connects corporations with geopolitical and international business experts; and Amber, a digital authentication and verification startup. 
Among other things, Jamil currently serves on the Board of Directors for the Greater Washington Board of Trade, the Board of Advisors for the Global Cyber Alliance, and the Advisory Board of the Foundation for the Defense of Democracies' Center on Cyber and Tech Innovation, and is a member of the Center for a New American Security's Artificial Intelligence and National Security Task Force and the CNAS Digital Freedom Forum. Jamil is also affiliated with Stanford University's Center for International Security and Cooperation. 
Prior to his current positions, Jamil served on Capitol Hill in a variety of roles, including on the leadership team of the Senate Foreign Relations Committee and as a senior staff member of the House Intelligence Committee. Jamil also previously served in the Bush Administration in a number of positions, including on the leadership team of the Justice Department's National Security Division and in the White House as an Associate Counsel to President George W. Bush. Jamil also served as a law clerk to Justice Neil M. Gorsuch of the U.S. Supreme Court and Judge Edith H. Jones of the U.S. Court of Appeals for the Fifth Circuit, was a Visiting Fellow at the Hoover Institution from 2016-2019, taught classes at the George Washington University's Elliott School of International Affairs and the National Intelligence University, and holds degrees with honors from UCLA, the University of Chicago Law School, and the United States Naval War College.