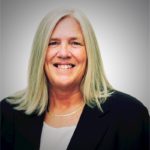 Sue is currently the Director at CACI International which provides the unique expertise and distinctive technology that address customers' greatest enterprise and mission challenges.
She was the fifth Principal Deputy Director of National Intelligence at the Office of the Director of National Intelligence (DNI) from August 2017 to August 2019. As PDDNI, Sue was a key advisor to the President and National Security Council and led the 17-member Intelligence Community. With more than three decades of experience in the IC, Sue has served in a variety of leadership roles spanning numerous intelligence organizations and disciplines. Prior to the DNI, Sue served as the Deputy Director of the National Geospatial-Intelligence Agency from 2015 to 2017, helping the director lead the agency and manage the National System of Geospatial Intelligence.
Before joining the NGA, she served for 27 years at the Central Intelligence Agency, rising to senior executive positions in each of the Agency's four directorates: operations, analysis, science and technology, and support. In 1998, she designed and drove the formation of In-Q-Tel, a private, non-profit company whose primary purpose is to deliver innovative technology solutions for the agency and the IC. She is the recipient of numerous government and industry awards, including the Distinguished Intelligence Medal and the Distinguished Presidential Rank Award. Sue earned a Bachelor of Science from Duke University. A trusted authority on strategy, innovation and leadership, Sue is currently a consultant on global risk, technology, cyber and space issues and a member of the Board at Pallas Advisors, a Washington D.C.-based consultancy.
For more of Ms. Gordon's media hits, click here.