NSI was excited to host Rep. Jennifer Wexton (D-VA-10) and Rep. Mike Waltz (R-FL-6) – two outspoken critics of the upcoming Beijing Olympic games – for a discussion of China's ongoing human rights violations, including the recent disappearance of Olympic tennis player Peng Shuai, and how the U.S. can take a critical stand against these abuses. Moderating the event will be Les Munson, former staff director of the Senate Foreign Relations Committee.
Rep. Waltz and Rep. Wexton have both been vocal regarding China's hosting of the Olympics. Rep. Waltz introduced a resolution urging the U.S. Olympic and Paralympic Committee to not participate in games if held in China and he also introduced the Beijing Winter Olympics Sponsor Accountability Act targeting businesses sponsoring the 2022 Beijing Winter Olympics. Rep. Wexton is a member of the Congressional-Executive Commission on China, where she has been a voice for Uyghur community – in March, she reintroduced the Uyghur Forced Labor Disclosure Act – and at a recent Commission hearing focused on the implications of a Beijing Olympics, called for a U.S. boycott.
A full recording of the event can be seen below.
Congressman Mike Waltz has represented Florida's 6th congressional district since 2019.  Mike is a proud Florida native, a Colonel in the National Guard, a combat-decorated Green Beret, former White House and Pentagon policy advisor, and a small business owner.
He graduated from the Virginia Military Institute, has served over 24 years in the U.S. Army, and is presently serving in the National Guard. As a Green Beret, Congressman Waltz served worldwide as a decorated Special Forces officer with multiple combat tours in Afghanistan, the Middle East and Africa. For his actions in combat, Mike was awarded 4 Bronze Stars and 2 with valor. He is also the first Green Beret to be elected to Congress.
Mike's servant leadership continued in the Pentagon as a defense policy director for Secretaries of Defense Donald Rumsfeld and Robert Gates. He then went on to serve in the White House as Vice President Dick Cheney's counterterrorism advisor.  In 2020, Mike was promoted to the rank of Colonel.
Congressman Waltz is the author of, "Warrior Diplomat: A Green Beret's Battles from Washington to Afghanistan."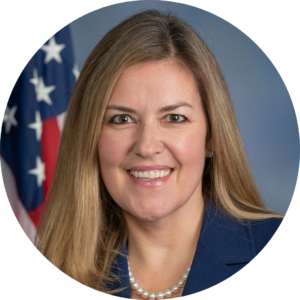 Congresswoman Jennifer Wexton has been serving the people of Northern Virginia and the Shenandoah Valley for over two decades as a prosecutor, attorney, advocate for abused children, and state Senator. During her five years in the General Assembly, she passed more than 40 bipartisan bills, all while serving in the minority.
Now in Congress, Congresswoman Wexton has found success in working across the aisle to deliver results to better the lives of Virginia's children and families. Wexton passed bipartisan legislative initiatives to expand funding for opioid addiction research, safeguard Americans' retirement savings during the COVID-19 crisis, protect leave benefits for federal workers, modernize the Financial Crimes Enforcement Network, allow student veterans to use their benefits to study overseas, and ensure that leaders receive information about foreign disinformation campaigns on social media aimed at undermining U.S. elections.
Congresswoman Wexton serves on the powerful House Appropriations Committee, where she is responsible for securing funding for all of the government's spending programs. Specifically, her subcommittee assignments focus on funding for transportation and housing, foreign operations, and the legislative branch. Wexton is also a member of the House Budget Committee, which provides oversight of the legislative budget process.
Wexton is the founder of the Congressional Task Force on Digital Citizenship, which aims to help better equip Americans with tools and resources to use technology and engage online responsibly in an increasingly digital world, and the bipartisan Congressional Agritourism Caucus, which supports the agritourism industry and highlights its importance to local economies and communities. Wexton is also a member of the Congressional-Executive Commission on China, where she is working to combat human rights abuses.
A native of the Washington area, Wexton graduated with honors from the University of Maryland in College Park and earned her law degree from the College of William and Mary in Williamsburg, Virginia. She lives in Leesburg with her husband, two sons, and two rescued labrador retrievers.
Lester Munson is Vice President, International at BGR Group, a leading government relations firm in Washington, DC, where he consults with foreign governments, corporations, and advocacy groups.
He also serves as adjunct faculty at Johns Hopkins University and as a principal on the Modernizing Foreign Assistance Network. He speaks regularly on the foreign policy role of Congress and on U.S. foreign assistance issues.
Most recently, he is co-author of the Atlantic Council's "State Department Reform Report," released in August 2017, and the Center for Strategic and International Studies' "Reforming and Reorganizing U.S. Foreign Assistance," released in June.
Lester joined BGR Group in November 2015 after a 26-year career on Capitol Hill and in the Executive Branch. He was most recently Staff Director of the Senate Foreign Relations Committee, where he led policy, oversight, legislative, and communications efforts for a staff of 25 and negotiated committee priorities with the White House, the State Department, and Congressional leadership.
Previously, Lester was Chief of Staff for Senator Mark Kirk of Illinois. During his tenure, Senator Kirk became the leading Republican voice in the Senate on Iran and other national security issues.
During the Bush Administration, Lester served as Deputy Assistant Administrator at the U.S. Agency for International Development, where he focused on legislative affairs as well as global health issues. He led legislative efforts to develop and implement the President's Emergency Plan for AIDS Relief (PEPFAR) and won an award for his contribution to the creation of the President's Malaria Initiative.
Lester is a 1989 graduate of the University of Chicago and holds a Master's degree from St. John's College in Annapolis. He is married with two children.