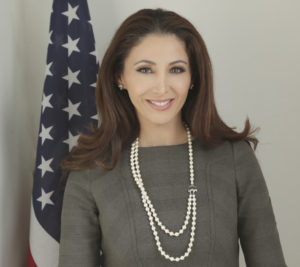 Dr. Julia Nesheiwat served as our nation's 10th Homeland Security Advisor. A former U.S. Army combat veteran and diplomat, she is an expert on the intersection of energy security, climate resilience, and national security having served in the Bush, Obama, and Trump administrations.
In December 2020, she was appointed as Commissioner on the U.S. Arctic Research Commission.  As a diplomat, she was the deputy and acting U.S. Presidential Envoy for Hostage Affairs, and Deputy Assistant Secretary of State for Energy.  Previously, she also served as Chief of Staff for policy and planning at the Office of the Director of National Intelligence, and on the bipartisan Presidential Commission on Intelligence Capabilities Regarding Weapons of Mass Destruction.
Dr. Nesheiwat was appointed as Florida's first Chief Resilience Officer and served on the World Economic Forum's Global Advisory Council, an international affairs fellow and life member with the Council on Foreign Relations, and a Distinguished Fellow at the Atlantic Council.  As a military intelligence officer she served consecutive tours in Afghanistan & Iraq and was awarded the bronze star medal.  She was a visiting professor at the Naval Postgraduate School, lectured at Stanford University and University of California San Diego. She earned a BA from Stetson University, MA from Georgetown University, and PhD from Tokyo Institute of Technology.