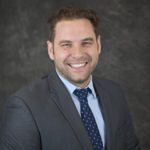 Professor Arthur Rizer is the Vice President for the Program on Technology, Criminal Justice and Civil Liberties at Lincoln Network. In addition to his work at Lincoln, Arthur is a visiting lecturer at University College London, and an adjunct professor at George Mason University's Antonin Scalia Law School. Arthur is also a member of Columbia University Justice Lab's Executive Session for the Future of Justice Policy, the Federalist Society's Executive Committee of the Criminal Law Practice Group, the Virginia Advisory Committee to the U.S. Commission on Civil Rights, and other advisory bodies.
Before joining Lincoln, Arthur was founding director of the R Street Institute's program on criminal justice and civil liberties. Prior to that, Arthur taught at West Virginia University's College of Law, and was a visiting professor at Georgetown University Law Center. He also served as a trial attorney with the U.S. Justice Department, primarily as a federal prosecutor in the Criminal Division, where he targeted command-and-control drug cartel leaders and narco-terrorists. He also served as a prosecutor in the U.S. Attorney's Office for the Southern District of California and in the civil division. Earlier in his career, Arthur served in the U.S. Army, originally enlisting as a private before later receiving a commission. He served as an armor officer, later becoming the commander of a military police company and a Reserve Officers' Training Corps assistant professor. He deployed to Fallujah, Iraq, with the mission to train the Iraqi Infantry and served as an MP acting battalion commander and executive officer. He retired as a lieutenant colonel from the U.S. Army (WVNG). During his Army career, Arthur received the Bronze Star, Purple Heart, Meritorious Service and Iraq Campaign medals.
Arthur is the author of three books: Lincoln's Counsel (2010); The National Security Implications of Immigration Law (2013); and Jefferson's Pen: The Art of Persuasion(2016).
Arthur earned his bachelor's degree in political science from Pacific Lutheran University; a master of laws, with distinction, from Georgetown University's Law Center; and his JD, magna cum laude, from Gonzaga University School of Law. He is also a graduate of the U.S. Marine Corps' Command Staff College. He is in the final stages of a doctorate at the University of Oxford, Faculty of Law, Centre of Criminology that focuses on policing.
For more of Mr. Rizer's Media Hits, click here.