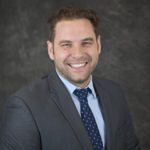 Professor Arthur Rizer is director of criminal justice and civil liberties policy for the R Street Institute, where he heads institute programs dealing with a variety of issues related to crime, policing, intelligence and privacy. In this capacity, he produces original research, writes for the popular press and educates policymakers on criminal justice and civil liberty issues. Arthur is also a Visiting Lecture at the University of London, University College London in the Department of Security and Crime Science.
Arthur previously served as associate professor of law at West Virginia University's College of Law and visiting professor of law at Georgetown University Law Center. From 2005 to 2014, he was a trial attorney with the U.S. Justice Department, primarily serving as a federal prosecutor with the Criminal Division's Narcotic and Dangerous Drug Section, specifically targeting command and control drug cartel leaders and narco-terrorists. He also served as a prosecutor in the United States Attorney's Office for the Southern District of California and in the civil division, working on immigration-related litigation, and with the Federal Programs Guantanamo Bay litigation team. He joined the Justice Department after a three-year stint as a patrol officer with the police department of Cheney, Washington, having graduated the Washington State Police Academy with high honors.
Earlier in his career, Arthur served in the U.S. Army, originally enlisting as a private before later receiving a commission. He served as an armor officer, later becoming the commander of a military police company and the acting commander of a military policy battalion. Arthur deployed to Fallujah, Iraq, with the mission to train the Iraqi Infantry. He retired as a lieutenant colonel from the U.S. Army, WV National Guard. During his military career, Arthur received the Bronze Star, Purple Heart, Meritorious Service and Iraq Campaign medals. The Justice Department recognized him with performance awards in 2008, 2010 and 2011 and made him a 2012 Leadership Excellence and Achievement Program Fellow. He also was named West Virginia College of Law's professor of the year for the 2014-2015 school year.
Arthur earned his Master of Laws, with distinction, from Georgetown University Law Center, and his Juris Doctor, magna cum laude, from Gonzaga University School of Law. He also is a graduate of the U.S. Marine Corps' Command Staff College. Arthur currently is pursuing his doctorate in philosophy at Oxford University's Faculty of Law, focusing his studies on criminology.
Arthur is the author of 22 academic journal articles, 71 articles, and three books: Lincoln's Counsel: Lessons Learned from America's Most Persuasive Speaker (2010); The National Security Implications of Immigration Law (2013); and Jefferson's Pen: The Art of Persuasion (2016).