Hazel Hall | Room 225
March 20
12:00 PM – 1:00 PM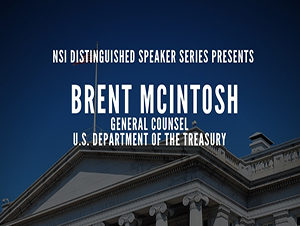 Join NSI for a fireside chat with Brent McIntosh, General Counsel for the Department of the Treasury, and NSI Founder Jamil N. Jaffer to discuss Treasury's role in advancing U.S. national security.  In his role, Mr. McIntosh provides legal and policy advice to the Secretary and other senior Departmental officials.
A livestream will be available.  If you would like to watch the livestream, please register below in order to create a free Echo account to view the feed by 9:00 AM on Wednesday, March 20. 
Register below