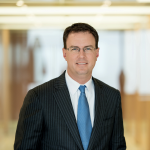 David Blake currently serves as the General Counsel for the AG Alliance. Previously, he chaired the State Attorneys General Practice at Squire Patton Boggs.
He previously served as Chief Deputy Attorney General in the Office of the Colorado Attorney General Cynthia H. Coffman. In that role, he served as the attorney general's top advisor on all legal, management, press, and policy matters and directly oversaw the consumer protection and criminal justice sections. As chief deputy, he led the office's efforts on key issues, including immigration policy, open records requests, and marijuana legalization. He managed major litigation matters related to the Second Amendment, the Consumer Protection Act, the Hospital Transfer Act, and Supreme Court amicus briefings. During his tenure in the Attorney General's Office, he was active in the Conference of Western Attorneys General (CWAG), the Republican Attorneys General Association (RAGA), and the National Association of Attorneys General (NAAG).
Prior to joining the Colorado Attorney General's Office, David served in the U.S. Department of Justice, including as Attorney Advisor for the Office of Intelligence, Counsel to the Assistant Attorney General, Special Assistant to the Assistant Attorney General for National Security, and Special Assistant to the Assistant Attorney General for Legislative Affairs. His work in the Department of Justice included representing the U.S. government before the U.S. Foreign Intelligence Surveillance Court, coordinating approval of FBI counterterrorism and counterintelligence undercover operations, and evaluating classified reporting and evidence related to Guantanamo Bay detainees and litigating habeas corpus petitions filed by detainees.
David also previously served as a Special Assistant U.S. Attorney in the District of Columbia and as an Adjunct Professor at the George Mason University School of Law.
He serves as a special advisor to Baking for the Troops and was previously a board member of Colorado Youth at Risk, a member of the Arapahoe Citizens Budget Committee and Chair of the Young Professionals Committee of the Denver chapter of the American Heart Association, Denver Chapter of Volunteers of America, and the Cancer League of Colorado. He is a 2012 graduate of the Leadership Program of the Rockies.
For more of Mr. Blake's media hits, click here.