The National Security Institute was excited to be a part of ICS Village at DEF CON 2021 with our exclusive panel titled: "Your Infrastructure is Encrypted: Protecting Critical Infrastructure from Ransomware".
NSI Fellows Ernie Bio, Jennifer DeTrani, and David Etue joined us for a discussion on ransomware, hosted by NSI Founder and Executive Director, Jamil Jaffer.
To view the full ICS Village panel schedule, please click here.
This event featured:
Ernie Bio joined the ForgePoint Capital investment team in September of 2018, where he focuses on early stage venture capital within the B2B cybersecurity market.  Prior to ForgePoint, Ernie served as the Chief Operating Officer of a government startup – the Defense Innovation Unit Experimental (DIUx), headquartered in Silicon Valley.  He was responsible for executing the organization's strategy in an effort to rapidly identify and acquire cutting edge commercial technologies to solve national security challenges.  Prior to his role as COO, he served as the Director of the U.S. Cyber Command Point of Partnership where he was responsible for the identification and acquisition of cybersecurity technologies, focused on working with startups and venture capitalists in key technology ecosystems.  His private sector experience includes roles in management consulting and an early stage technology startup.  Ernie started his career in the military as an F-16 fighter pilot.  He has an MBA with a specialization in finance from the Leonard N. Stern School of Business, NYU and a B.S. in cell & molecular biology from Loyola University, MD.
Jennifer DeTrani is General Counsel at Nisos, a managed intelligence company helping enterprises identify adversaries and related threats. At Nisos she is passionate about driving conversations around how companies can use intelligence to drive corporate value and advancing a high-performance culture that is also diverse and inclusive.  Prior to Nisos, Jennifer co-founded a secure messaging company focused on data minimization, Wickr, where she served as General Counsel and Chief Privacy Officer. Over the past two decades, in addition to running the legal department at start-up companies, Jennifer has served as a federal prosecutor, run a solo law practice and worked at a top law firm practicing commercial law.  She has volunteered her time each year at DefCon, teaching kids to be whitehat hackers through a non-profit organization.  Jennifer serves as a member of the executive leadership team at SunLaw, a non-profit organization dedicated to helping advance female in-house counsel through information sharing, connection and collaboration.  She is a contributor to Above the Law, and writes about the intersection of technology, privacy and the law.   Educated at Dartmouth College and Michigan Law School, Jennifer grew up in the DC area and abroad, but now calls Southern California her home.
David Etue is Chief Executive Officer of Nisos.  He has 20 years of experience at early-stage and mature companies, bringing industry perspective is built from experience including security program leadership, management consulting, product management and technical implementation. Prior to Nisos, he was Global Head of Managed Security Services at BlueVoyant and previously VP of Managed Services at Rapid7 where he drove the creation, execution and strategic vision of the managed services offerings globally. He was the VP of Business Development for Gemalto's identity and data protection business, which he joined via the SafeNet acquisition . He was previously the cyber security practice lead at PRTM (now PwC), VP of Products & Markets at Fidelis Security Systems, led General Electric's global computer security program, and held various positions in technology strategy, operations and product management. He is a Certified Information Privacy Professional, a Certified CISO, and a graduate of GE's Information Management Leadership Program.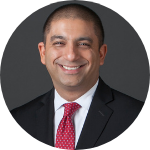 Jamil N. Jaffer is the Founder and Executive Director of the National Security Institute, and an Assistant Professor of Law and Director of the National Security Law & Policy Program at the Antonin Scalia Law School at George Mason University.  Jamil is also Senior Vice President for Strategy, Partnerships & Corporate Development at IronNet Cybersecurity, a technology products startup founded by Gen (ret.) Keith B. Alexander, the former Director of the National Security Agency and Founding Commander of U.S. Cyber Command.  In addition, Jamil is an advisor to Beacon Global Strategies, a strategic advisory firm; 4iQ, a deep and dark web intelligence startup; Duco, a technology platform startup that connects corporations with geopolitical and international business experts; and Amber, a digital authentication and verification startup.