Defending the Nation in the 21st Century and Section 702 Reauthorization 
Antonin Scalia Law School, George Mason University
Monday, April 24, 2017 | 1:00 PM – 2:00 PM | 329 Hazel Hall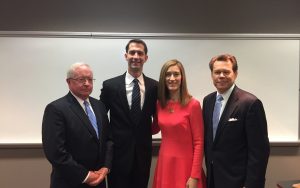 U.S. Senator Tom Cotton (R-Ark.) was the debut speaker at the Distinguished Speaker Series from the Antonin Scalia Law School's National Security Institute on Monday, April 24. Cotton, a member of the Senate Select Committee on Intelligence, was introduced by Mason professor and former assistant attorney general Rachel Brand and spoke to a group of law students, where he solidified his position on the importance of reauthorizing the Foreign Intelligence Surveillance Act of 1978, which, he said, empowers the intelligence community to detect and monitor threats to the United States.
Thank you to everyone who contributed to this important discussion!