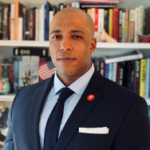 Salahudin E. Ali is a Commissioned Marine Corps Officer and Judge Advocate who provides comprehensive legal services on matters under the cognizance of the Department of the Navy General Counsel and Staff Judge Advocate to the Commandant of the Marine Corps. His area of focus consists of the intersection of law & technology.
Salahudin Ali is currently assigned to Headquarters Marine Corps (HQMC).  While assigned to HQMC, he has served as both an Associate Counsel for the Office of Counsel for the Commandant of the Marine Corps, and a Judge Advocate assigned to the Office of the Staff Judge Advocate to the Commandant of the Marine Corps. His portfolio consists of the full spectrum of national security law, including cybersecurity, intelligence oversight & policy, electromagnetic spectrum management, information security, fiscal law, civilian personnel & labor law, military personnel law, federal litigation, and government ethics & standards of conduct.
Prior to his current position, Salahudin Ali's career has consisted of assignments as a Regimental Command Judge Advocate, Senior Legal Assistance Attorney, Civil Law Officer, and time as a Trial Counsel (military prosecutor) and civilian prosecutor. During these assignments he has twice been awarded the Navy and Marine Corps Commendation Medal, and is a recipient of the Naval Achievement Medal.
Salahudin Ali received his J.D. from Lewis & Clark Law School (2011). He received his LL.M. in Intellectual Property Law & Technology (2018) from the Scalia School of Law at George Mason University, with a focus on Cybersecurity, Intelligence, and National Security Law. Salahudin Ali routinely publishes in the area of law & technology, with recent articles appearing in the National Security Law Journal at George Mason; The George Mason Civil Rights Law Journal; The Santa Clara Journal of International Law; and the Southern Methodist University Science and Technology Law Review (forthcoming, 2020).
The Department of Defense (DoD) nor its components expressly or impliedly endorse the NSI, and the views presented during this visiting fellowship are those of the speaker or author and do not necessarily represent the views of DoD or its components.