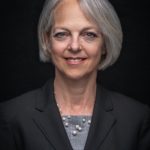 The Honorable Karen H. Gibson was appointed Sergeant at Arms (SAA) of the U.S. Senate in March, 2021. As the Senate's chief law enforcement officer, she is responsible for security in the Capitol and Senate buildings and for the Senate's emergency, life safety, and continuity of government programs. She is the Senate's protocol officer and executive officer, enforcing rules regulating the Senate and is responsible for the Senate's cybersecurity and technology support, as well as a broad array of support services for the Senate community.
Prior to her appointment in the Senate, Ms. Gibson served on active duty in the U.S. Army for 33 years, attaining the rank of Lieutenant General. She performed in numerous intelligence and cyberspace roles, culminating her service as a Deputy Director of National Intelligence for National Security Partnerships at the Office of the Director of National Intelligence.
She previously served as Director of Intelligence for U.S. Central Command, where she wielded National and Defense intelligence assets ranging from clandestine ground operatives to exquisite technical collection from space to support national security objectives and military operations in the U.S. Central Command region spanning from Egypt to Pakistan and Yemen to Kazakhstan. She is especially proud of her service as Director of Intelligence for Operation Inherent Resolve, the multinational coalition to defeat the Islamic State in Syria and Iraq, and as Deputy Commanding General for U.S. Army Cyber Command, where she designed and built U.S. Cyber Command's first functional Joint Force Headquarters-Cyber for synchronizing offensive and defensive operations in cyberspace.
A seasoned combat veteran, Ms. Gibson has led intelligence-operations centers in Iraq, Afghanistan, Korea, and East Africa. Among other awards and decorations, she is a recipient of the National Intelligence Distinguished Service Medal and the Distinguished Superior Service Medal with combat device.
A Montana native, Ms. Gibson earned a B.S. in Industrial Engineering from Purdue University, a M.S. in National Security Strategy from the National War College, and a M.S. in Strategic Intelligence from the National Intelligence University. She teaches national security strategy as an Adjunct Professor at Georgetown University and is an Exceptional Woman Awardee for 2023.