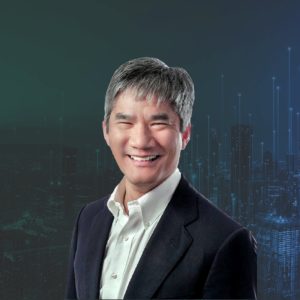 With over 20 years of National Security experience, Gilman Louie continues to work on critical National Security issues.  Currently, Louie is one of 15 commissioners on the National Security Commission on Artificial Intelligence (NSCAI), where he leads the effort to protect and build upon a U.S. technological advantage covering topics such as AI, Hypersonics, Trusted Semi-Conductors, 5G, Quantum Computing, and Biology.
Louie is an expert and Special Government Employee to the DoD Defense Innovation Board (DIB) where he co-authored the DIB's 5G Ecosystem report and the DoD software reform report.
Louie serves as the board Chairman for the National Intelligence University (NIU) Board of Visitors, assisting the University's transition from the Defense Intelligence Agency to the Director of National Intelligence.
Louie was the former CEO of In-Q-Tel.  In-Q-Tel was established as a 501c3 venture capital fund to help the Central Intelligence Agency engage with the U.S. entrepreneurial technology sectors to support the Intelligence Community Mission.   In 2006, Louie received the CIA Director's Award and the Agency Seal Medallion for his work with In-Q-Tel.
In 2003, the CIA director asked Louie to serve on the Diversity Senior Advisory Panel for the I.C. (DSAPIC).  The CIA, and later, the DNI, recognized that the Intelligence Community (I.C.) had significant diversity issues in both the workforce and its leadership.  Louie was awarded the CIA Agency Seal Medallion in 2004 and the Director of National Intelligence Medallion in 2008 for outstanding service, personal commitment, and demonstrated leadership towards establishing an environment of equality, diversity, and inclusion within the Intelligence Community.
From 2008 until 2017, Louie served as a member of the Technology Advisory Group (TAG) to the Senate Select Committee on Intelligence (SSCI).   Louie briefed both staff and SSCI members in classified sessions.  Louie worked on numerous studies for the SSCI, including space resiliency, quantum computing, computer translation, and several classified programs.
Over the years, Louie served as an SGE to numerous agencies, including as a member of the Advisory Board (A.B.) to the Director of Defense Intelligence Agency (DIA); Innovation Office DIA; Advisor to the Deputy Under Secretary for Intelligence and Analysis, Department of Homeland Security; Advisor, special program (classified) and the National Security Agency.  In 2011, Louie was appointed a commissioner to the National Commission for Review of Research and Development Programs of the United States Intelligence Community.  Louie served on several National Academies of Engineering studies, including chairing the study on Persistent Forecasting of Disruptive Technologies and serving as Vice-Chair of the Standing Committee on Technology, Insight-Gauge, Evaluate, and Review.
Louie is a co-founder and managing partner of Alsop Louie Partners, a technology venture capital fund.
Louie serves on numerous commercial boards and advisory boards.  Louie is a Director of Maxar Corporation (NYSE: MAXR).  Maxar is a space technology company specializing in earth observation, satellite products, and geospatial mapping and services for commercial, military, and intelligence markets.  Before Maxar, Louie was Chairman of Vricon, a J.V. between Maxar and SAAB AB developing advanced 3D geospatial mapping for government and commercial use.  Louie is a Director of NavSight Holding (NYSE: NSHU); a Director of Niantic, publisher of Pokemon Go; a Director of ZeroFox, a cyber-security company; and is an investor and advisor to Kuprion which has developed a revolutionary anti-viral, anti-biological PPE material to be used in the fight against COVID-19.
Louie is also the CEO and Chairman of Lookingglass Cyber Solutions.  Lookingglass provides threat intelligence and threat mitigation solutions to commercial and government customers, including the DHS, DISA, U.S. Air Force, US CYBERCOM, and NSA.
Louie is the current Chairman of the Federation of American Scientists (FAS).
In 2002, Louie was named one of Scientific American Fifty for being a business leader in defense and his contributions to science and technology to provide a vision for a better future.  He also was recognized by the Potomac Institute for Policy Studies and was awarded the Navigator Award for national leadership in science and technology policy.
Louie is a Director of the Markle Foundation. He worked on several national security reports in the aftermath of 9/11 on information sharing and collaboration, which set the framework for the need to share, superseding the need to know, and led to two Presidential Executive Orders.  Also, Louie was one of several authors of Markle's Rework America, which seeks to transform America's labor markets so that all Americans have an opportunity to thrive in a digital economy.
Louie is a life member of the Council on Foreign Relations (CFR) and served on numerous 501c3 boards, including the CIA Officer's Memorial Foundation board; the board of Digital Promise which was established by the Congress and launched by President Obama to advance technologies to transform teaching and learning; the National Venture Capital Association (NVCA); and Great Schools, the leading online source of school information (K-12) performance.
Louie received his Bachelor of Science in Business Administration from San Francisco State University where he graduated Magna Cum Laude. He completed the Advanced Management Program (AMP) and the International Seniors Management Program (ISMP) from Harvard University Graduate Business School.