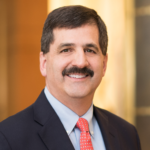 Kenneth J. Nunnenkamp currently serves as a Partner at Morgan Lewis.  He represents clients in international trade and national security matters before United States federal courts and government agencies, including the US departments of State, Commerce, Homeland Security, Defense, and Treasury.  Before joining Morgan Lewis, Ken has been a Partner at Dentons and Jones Day and a Counsel at Patton Boggs LLP.
With more than 30 years of litigation and investigation experience, including time as a JAG Officer in the US Marine Corps, Ken routinely conducts internal investigations for clients, including investigations into actual or potential compliance issues arising under the International Traffic in Arms Regulations (ITAR), Export Administration Regulations (EAR), Office of Foreign Assets Controls Regulations, US Customs Regulations, and Foreign Trade Regulations. Additionally, Ken works with clients to understand each business's scope and needs in establishing and improving trade and sanctions compliance programs, including the creation and auditing of company export management systems of all sizes.
On the transactions side, Ken works with counsel in handling trade due diligence and preparing transactions for review by the Committee on Foreign Investments in the United States (CFIUS), and performing due diligence, assessment, and examination of often latent issues. He also works with both buyers and sellers on public and private transactions in the million- and billion-dollar range. Ken's experience with CFIUS includes almost every industry and transactions from more than 15 countries, including China, Germany, Japan, the United Kingdom, Canada, and Indonesia.  Ken also has aided companies with responses to various Executive and Congressional information requests and filings, including those under section 332(g) of the Tariff Act, BE-13 filings with the US Department of Commerce, or ITAR registrations and 122.4 notices with the US Department of State.
Ken has written numerous articles and chapters, and lectures regularly on CFIUS, export investigations, and export control and compliance issues. He serves as a resource for multiple publications on export, economics, and national security issues. Ken maintains an active pro bono practice, representing veterans before the Board of Veterans Appeals, the US Court of Appeals for Veterans Claims, the US Court of Appeals for the Federal Circuit, and various military discharge review boards. He previously served in the US Marine Corps as a JAG officer.  Ken is the leader of the Morgan Lewis CFIUS working group.
Ken holds a BA in Ohio Wesleyan and a JD from The Catholic University of America, Columbus School of Law.  He additionally holds an LLM in Intellectual Property from the Antonin Scalia Law School at George Mason University.