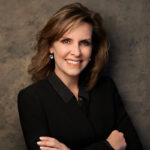 Kristi M. Rogers is a leading executive and former senior government official with extensive international leadership experience in the public and private sectors. Her strategic advice and counsel are regularly sought on issues relating to global supply chain resiliency, security and disaster response, federal government contracting, the role of business in complex and dynamic environments, and crisis communications.
Today, she is the managing partner and co-founder of Principal to Principal, and P2P Strategies, strategic positioning companies operating at the most senior levels of business and government. Their objective is to bring constructive approaches to today's multifaceted public policy issues and assist organizations with successfully addressing complex challenges. P2P manages a Global Forum and a Global Supply Chain Task Force.
A recovering start-up CEO, Kristi successfully launched, managed, and grew two companies with overseas operations. She currently serves on the Board of Directors of Qualys Inc. (a publicly traded company), chairs its Nomination & ESG Committee and serves on its Compensation & Talent Committee; and NowSecure (a private mobile app security company), serving on its Audit and HR & Compensation Committees.
Kristi also serves on the Board of Business Executives for National Security (BENS), co-chairs the Women's Foreign Policy Group Board, and serves on the Advisory Councils for ForgePoint Capital, George Mason University's National Security Institute, and the Silverado Policy Accelerator. She was recognized by WomenInc. as a member of their 2019 Most Influential Corporate Directors. In June 2020, she was appointed to the BENS Commission on the National Response Enterprise, chaired by former U.S. Department of Homeland Security Secretary, the Honorable Jeh Johnson, and the Chairman & CEO of Johnson & Johnson, Alex Gorsky.
Previously, Kristi was a senior executive within the US government serving at the Departments of Transportation, Defense, and Homeland Security. She spent just under a year in Iraq while at Defense, also traveling extensively in the Middle East and Africa. Today she is the State Society of Michigan's President and a regular speaker at Michigan State University's College of Social Science and other organizations.
For more of Ms. Rogers' media hits, click here.