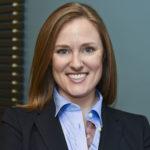 Loren Dealy Mahler is the President of Dealy Mahler Strategies, LLC, a strategic communications firm that advises clients on cybersecurity and defense-­‐related issues, with a focus on increasing organizational impact and effectively managing risk.
She is a seasoned strategic leader with high-­‐level government and private sector experience across national security, strategic communications and crisis management. From the White House to corporate America, Loren has helped clients leverage effective communications strategies to further business and policy objectives, while mitigating brand impact through effective cyber incident planning and response.
Loren has advised top government officials in her roles as Director of Legislative Affairs at the National Security Council and as Communications Director for Office of Legislative Affairs at the Department of Defense. Prior to that, she ran the communications office for the House Armed Services Committee. After leaving government service, Loren helped Fortune 500 companies and national nonprofits grow and protect their organizations, as Vice President of Corporate Communications for a PR firm in New York. In early 2016, she launched Dealy Mahler Strategies, LLC, and hasn't looked back.
Loren is a graduate of Princeton University and the McCourt School at Georgetown University. She currently serves on the Board of Advisors for the Cybersecurity program at Rutgers University and on the Advisory Board for the Cyber Security Summit in Minneapolis, MN. She is the author of the "Communications War Room" blog at csoonline.com, and frequently speaks at industry events around the country.
For more of Ms. Mahler's media hits, click here.