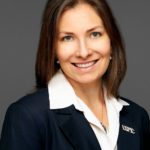 Meghan Biery is the Director of Government and Strategic Security Affairs at GlobalFoundries, a U.S.-headquartered semiconductor foundry. In this role Meghan manages a range of strategic security, export control and regulatory matters, and drives the development of U.S. federal policies to protect U.S. technology advantages in the semiconductor industry.  
Most recently, Meghan worked at the Semiconductor Industry Association as Director for Global Technology & Security Policy. Prior to SIA, Meghan served as the Senior National Security Policy Advisor at the Bureau of Industry and Security in the Department of Commerce, and at the Defense Technology Security Administration in the Department of Defense, in which capacities she handled broad international trade, national security, and export control strategy, policy, and implementation. During this period, she also served as the Director of Strategic Trade and Nonproliferation at the National Security Council in the Executive Office of the President. In this role she was responsible for the development and coordination of U.S. government policy on a broad range of critical technology and technology security issues.   
 Meghan is a former United States Marine Corps officer, serving in intelligence and as the protocol officer to the Commandant of the Marine Corps. She has B.A. degrees in Political Science and Music from the University of Rochester, and an M.A. degree in International Security Studies from the Georgetown University School of Foreign Service.  A native of Michigan, Meghan is now based in the Washington, DC area.