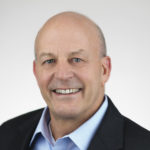 Vice Admiral (Ret.) Mike LeFever, USN, currently serves as Chief Executive Officer for Concentric Advisors.  Concentric Advisors is a risk management consultancy that specializes in delivering strategic security and intelligence services.  In addition, he is a member of the network of national security experts for "The Cipher Brief," a digital based conversation platform to connect the private sector with leading security experts.
Previously, Mike was the Chief Operating Officer for IOMAXIS, a US technology company specializing in cyber, communications, and computing solutions, and services.  His leadership was instrumental in growing and scaling the company, which more than doubled in revenue and profit in the three years under his stewardship.  He also worked as a senior advisor, mentor, and speaker at the McChrystal Group, a leadership and management firm, engaging with senior executives across multi-national companies on leadership, strategy, and change management.
Reflecting his deep experience with and commitment to developing high performance leaders and teams, Mike also served as a Performance Ambassador and Speaker for Liminal Collective and Arena Labs and as a senior advisor and mentor for leaders in private industry; the USG's National Defense University senior level national strategy, leadership, and warfighting courses; and USG Joint Forces.
Mike retired from the United States Navy after over 38 years of service, finishing his military career as the Director of Strategic Operational Planning at the National Counterterrorism Center, within the Office of the Director of National Intelligence.  He also served as both the Commander of the Office of Defense Representative in Pakistan and the Commander of the Joint Task Force in Pakistan, leading all US Armed Forces in Pakistan between 2008-2011
Throughout his career, Mike served in Navy and Joint leadership and command positions at every level.  He led disaster relief and humanitarian efforts, the full spectrum of warfare operations, and counterterrorism and counterinsurgency operations.  Renowned for his effectiveness in navigating cross-cultural, complex, and international environments and building high performance teams, his leadership was directly responsible for numerous significant achievements that protected and enhanced the national security of the United States.  The hallmark of LeFever's leadership was his commitment to build and promote lasting partnerships between the US and its key allies and coalition partners.
Mike is a graduate of the United States Naval Academy and the Naval Postgraduate School.  He received numerous military decorations including the Defense Distinguished Service Medal and the National Intelligence Distinguished Service Medal.  His foreign awards include both the Hilal- i-Quaid-i-Azam (Order of Great Leader) and Sitara-i-Eisaar (Star of Sacrifice) from the President of Pakistan.
For more of Mr. LeFever's media hits, click here.