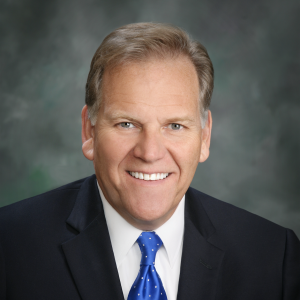 Mike Rogers is a former member of Congress representing Michigan's Eighth Congressional District, officer in the U.S. Army, and FBI special agent.
From his time in the U.S. House of Representatives, where he chaired the powerful House Permanent Select Committee on Intelligence (HPSCI) and was a member of the Energy and Commerce panel, Mike built a legacy as a tireless and effective leader on counterterrorism and national security policy, as well as being active on healthcare, telecommunications, and automotive issues.
As chairman of HPSCI, he authorized and oversaw a budget of $70 billion that provided funding to the nation's 17 intelligence agencies. Rogers was a prominent leader on cybersecurity in the United States Congress during his service, shepherding multiple cybersecurity bills through the House of Representatives and is a highly sought-after national expert on cyber policy.
Mike has worked with two presidents, Congressional leadership, and countless foreign leaders, diplomats and intelligence professionals to ensure the brave men and women who fight for our nation are equipped with the resources necessary to get the job done. Washington Post columnist David Ignatius remarked, Mike was "a rare example of bipartisanship."
The founder of the Mike Rogers Center for Intelligence & Global Affairs, he is working jointly with the Center for the Study of the Presidency and Congress (CSPC) and the Bipartisan Policy Center to realign the interests of government and the technology industry through the Global Digital Challenge Initiative. The Initiative brings together leaders in the policy, business, and technology communities to discuss critical issues facing the United States and the global digital economy. It offers participants a unique opportunity to engage with peers and counterparts, hear from leaders in industry and government, and network during forums designed to begin working towards an alignment of interests.
Mike sits on the Board of Directors for IronNet Cybersecurity, which features an integrated, end-to-end approach to cybersecurity that offers breakthrough, patent-pending technology, providing real-time threat assessment and updates, complex behavioral modeling, big data analytics and proactive responses. Additionally, Mike sits on the Board of Advisors for Next Century Corporation, a technology company that focuses on innovations in the security and intelligence space. He also serves on the Cybersecurity Industry Advisory Council for Trident Capital. Additionally, Rogers is a Distinguished Fellow at the prestigious Hudson Institute and serves on the Board of Trustees at CSPC.
Rogers is the host and executive producer of Declassified: Untold Stories of American Spies that airs on CNN. Rogers is also a CNN national security commentator and a regular in the major print outlets such as The New York Times, The Washington Post, The Wall Street Journal and the Associated Press. He is a staple on radio and appeared on more Sunday shows than any other elected official in 2013 and 2014.
Rogers was a 1985 graduate of Adrian College and is married to Kristi Rogers. He has two children – a daughter and a son.
For more of Mr. Rogers' media hits, click here.