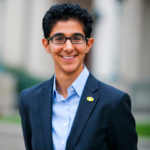 Noreen Kassam is the Founder and Managing Director of NAAK Global, a security consulting firm that provides innovative strategies and solutions for individuals and organizations facing security risks around the world.
Prior to founding NAAK Global, Noreen spent nearly a decade serving in senior positions across numerous U.S. Government agencies. In her work at the White House, Department of State, Department of Homeland Security, and the Central Intelligence Agency, Noreen's roles have focused primarily on leading teams in the areas of risk evaluation, intelligence operations and analysis, foreign government engagement, government to government security collaboration, law enforcement and security agency coordination, strategic policy engagement, and the development and execution of operational and security strategy.
Most recently Noreen served as Special Advisor to the Secretary of Commerce during the Obama Administration where she was responsible for leading the coordination and implementation process for policy, operations, and security.
Noreen received her Bachelor's Degree in Political Science & International Affairs specializing in Conflict and Security from The George Washington University's Elliot School of International Affairs. Noreen currently resides in the Washington, DC area.