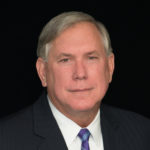 Mr. Ledgett has four decades of intelligence, cyber security and cyber operations experience, including 29 years with the National Security Agency (NSA), where he served as Deputy Director from January 2014 until his retirement in April 2017.  He was the Agency's chief operating officer, responsible for providing foreign intelligence and protecting the nation's most important national security-related networks and information.
Mr. Ledgett led NSA's Media Leaks Task Force, responsible for the totality of the Agency's efforts following the unauthorized disclosure of classified information in June 2013.  Previously he led the NSA's 24/7 Threat Operations Center (NTOC), responsible for identifying and countering cyber threats to our national security systems.  Mr. Ledgett was the Intelligence Community's first National Intelligence Manager for Cyber, serving as principal advisor to the Director of National Intelligence on all cyber matters.  He was also the DNI's Director for Collection, overseeing all of the U.S. Intelligence Community's collection programs.
Previous jobs at NSA included leading global collection and cryptanalytic operations, global language and analytic operations, and all NSA activities in the Pacific area.  He was an instructor and course developer at the National Cryptologic School and an adjunct instructor at the National Intelligence University.  Mr. Ledgett spent nearly 11 years in the U.S. Army as a cryptologist.
Currently Mr. Ledgett is a Senior Visiting Fellow at The MITRE Corporation, a Director on the Board of M&T Bank, a Trustee of the Institute for Defense Analyses, a Distinguished Visiting Professor of Cyber Studies at the US Naval Academy, a member of the National Academy of Sciences Intelligence Community Studies Board, a member of the National Infrastructure Advisory Council, and serves on several corporate and startup advisory boards.
For more Mr. Ledgett's media hits, click here.