Section 702: Views from Across the Spectrum 
Cannon House Office Building
Wednesday, December 6, 2017 | 11:15am – 12:00pm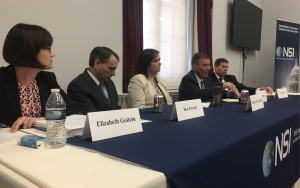 The National Security Institute brought together leading experts to weigh in on the balance between national security interest and privacy concerns implicated with the reauthorization of the Foreign Intelligence Surveillance Act (FISA) Section 702. FISA Section 702, which is set to expire at the end of 2017, authorizes the U.S. Intelligence Community to target non-U.S. persons reasonably believed to be located outside the U.S. in order to collect foreign intelligence.
Moderator: Darren Dick – Director of Operations, National Security Institute
Elizabeth Goitein – Co-Director, Liberty & National Security Program, Brennan Center for Justice
Benjamin Powell – Former General Counsel, Office of the Director of National Intelligence
Michelle Richardson – Deputy Director, Freedom, Security, and Technology Project, Center for Democracy & Technology
Kenneth Wainstein – Former Assistant Attorney General for National Security, U.S. Department of Justice
See our full summary here.
Thank you to everyone who contributed to this important discussion!