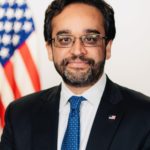 Vishal Amin is an experienced executive leader and a globally-recognized expert on IP, trade, and tech law & policy. In 2017, he was nominated by the President and confirmed unanimously by the U.S. Senate to serve as the White House Intellectual Property Enforcement Coordinator (IPEC), or "IP Czar." In this key role advocating for American innovation, he has represented the United States as an Under Secretary level official, directing U.S. IP Diplomacy and leading trade and law enforcement delegations to advocate for American IP interests abroad. He also directed a legal and policy team, part of the National Economic Council, that advised the President and coordinated key policies among Cabinet departments. He is the first Asian American to head a component agency of the Executive Office of the President (EOP/IPEC).
For nearly twenty years, Vishal has been at the center of federal intellectual property law & policy. While serving as Senior Counsel on the House Judiciary Committee, he was the lead counsel for several bills, including the Defend Trade Secrets Act of 2016 (P.L. 114-153) and the America Invents Act (P.L. 112-29). During the course of serving in two Presidential Administrations and in Congress, he wrote and helped enact major legislation in nearly all areas of intellectual property law, shaping the United States' modern IP system to protect and grow entrepreneurship. 
Vishal holds a bachelor's degree in neuroscience from Johns Hopkins University and a law degree from Washington University in St. Louis.