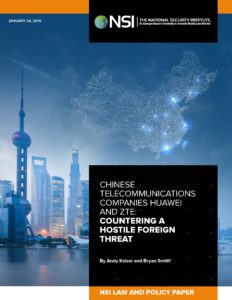 This NSI Law and Policy Paper:
Describes the foundations of Huawei and ZTE, the concerning actions taken by these companies, and the actions taken by the United States and allied governments in response.
Evaluates the key issues at stake for U.S. national security and competitiveness.
Argues that the U.S. should seek additional restrictions on Huawei and ZTE products and services in the U.S., while working with allies and partners to limit Chinese telecommunications expansion.
Provides actionable recommendations to counter the serious cybersecurity threat from Huawei and ZTE.
Read the complete paper here.
About the authors:
Andy Keiser is an NSI Fellow and is currently a Principal at Navigators Global, where he focuses on cybersecurity and other national security priorities.  He served 14 years on Capitol Hill for former House Intelligence Committee Chairman Mike Rogers – as Senior Advisor to the Committee, Chief of Staff, and Legislative Director handling all national security policy issues. 
Bryan Smith is an NSI Senior Fellow and is the Vice President & Technical Advisor Beacon Global Strategies. He provides strategic advisory services to defense and intelligence companies. He has held senior resource management positions in the House and Senate intelligence committees, the Office of Director of National Intelligence (ODNI), the Office of Management and Budget (OMB), and the National Reconnaissance Office (NRO).