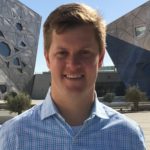 Andrew McClure invests in entrepreneurs building the next-generation of companies that protect the digital world.  He is a Principal at ForgePoint Capital, a leading venture capital firm with $300 million under management focused on cyber security.
He is Board Observer at BehavioSec, a pioneer in continuous authentication through behavioral biometrics; and CyberCube Analytics, a data-driven platform for insurers to assess cyber risk.  He was previously Board Observer at Prevoty (acquired by Imperva), an application security company.
Previously, Andrew served as an intelligence officer in the United States Marine Corps, where he led cross-functional teams in Afghanistan, the Middle East, East Africa, and Australia.  He held several leadership and staff positions focused on signals intelligence and cyber operations and remains affiliated with the Marine Reserves.
He holds a M.P.A. from Harvard Kennedy School, a M.B.A. from M.I.T. Sloan School of Management and graduated with a bachelor's degree in astrophysics from the U.S. Naval Academy.