Thanks for joining us for an exciting conversation featuring:
Bill Browder, Founder and CEO of Hermitage Capital Management and author of Red Notice
Jamil N. Jaffer, Founder and Executive Director, National Security Institute
As Russia continues to develop its military, nuclear, space, cyber, and intelligence capabilities to advance its agenda and undermine the United States, Bill Browder, author of Red Notice, joined NSI to discuss being a target of the Putin regime, how he fought to have the Magnitsky Act passed, and how the U.S. should respond to ongoing Russian aggression.
Speaker Bios: 
Bill Browder is the Founder and CEO of Hermitage Capital Management, which until 2005 was the investment adviser to the largest foreign investment fund in Russia. In 2005, Bill was denied entry to Russia on the grounds of being a "threat to national security" as a result of his battle against corporate corruption. In the time that followed, Russian authorities raided Bill's offices, seized Hermitage Capital's investment companies, and stole $230 million of taxes that had already been paid. Sergei Magnitsky, Bill's lawyer, investigated the crime and was subsequently detained, tortured for a year, and murdered in custody. Bill has since become an outspoken advocate for justice for Sergei Magnitsky and lobbies excessively for the Sergei Magnitsky Rule of Law Accountability Act, a bill that imposed visa sanctions and asset freezes on those involved in the detention, ill-treatment and death of Sergei Magnitsky—the first sanctions by the U.S. on Russia in 35 years. Bill continued to campaign for the law to go into effect globally to impose visa bans and asset freezes on human rights abuses. Bill is also the author of Red Notice, a novel recounting his experience.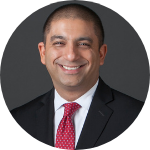 Jamil N. Jaffer is the Founder and Executive Director of the National Security Institute, and an Assistant Professor of Law and Director of the National Security Law & Policy Program at the Antonin Scalia Law School at George Mason University.  Jamil is also Senior Vice President for Strategy, Partnerships & Corporate Development at IronNet Cybersecurity, a technology products startup founded by Gen (ret.) Keith B. Alexander, the former Director of the National Security Agency and Founding Commander of U.S. Cyber Command.  In addition, Jamil is an advisor to Beacon Global Strategies, a strategic advisory firm; 4iQ, a deep and dark web intelligence startup; Duco, a technology platform startup that connects corporations with geopolitical and international business experts; and Amber, a digital authentication and verification startup.
For information on future NatSec Nightcap upcoming events or to watch past events, click here.