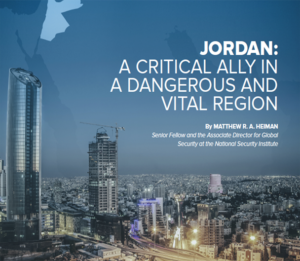 Explains the continuing U.S. national security interest in the Middle East.
Describes the important role Jordan plays in helping the U.S. achieve its goals in the Middle East.
Offers steps that should be taken to strengthen the U.S.-Jordan relationship.
Read the complete paper here.
About the Author:
Matthew R. A. Heiman is an NSI Senior Fellow and former lawyer in the National Security Division, U.S. Department of Justice.  Previously, Mr. Heiman was the Vice President, Corporate Secretary & Associate General Counsel at Johnson Controls.  Prior to its merger with Johnson Controls, Mr. Heiman held a number of positions with Tyco International.